Get Involved with Hope Pregnancy Center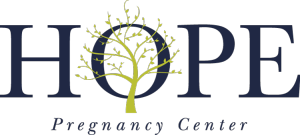 In a very real sense, Hope Pregnancy Center represents the Church in action. Women and men from various Christian denominations and traditions come together for the common cause of sharing the messages of LIFE , CHRIST, and PURITY with those facing difficult decisions and circumstances. With that in mind, our office at 325 N. 2nd Street is a mission field, right in our own backyard. And there are countless ways for God's people to get involved in what He is doing here!
Pray
We know that God answers prayer. Without the Lord's blessing and provision, we are powerless to accomplish that to which He has called us. If the Lord is prompting you to pray for us specifically, please consider joining the Hope Prayer Team. Email prayer@hopepregnancy.net or use the contact form at the bottom of this page to express your interest or request more information.
Connect
Are you a natural connector? You delight in giving people just the right information, or putting them in touch with just the right person for the job that needs to be done. We need you and your network of relationships and resources! Contact our Executive Director, Martha Sitzler for more information at martha@hopepregnancy.net, or send her a message using the contact form below.
Volunteer
There are existing roles to fill and room to create new roles, depending on the unique talents and skills you bring. There is a broad range of roles, from client advocates to clerical assistants, and everything in between. Click here to learn more, download an application, or explore various volunteer roles.  You're also welcome to contact the center directly!
Give
Hope Pregnancy Center is a private, non-profit 501(c)3 organization. The Lord meets our financial needs primarily through His people and His church. Large or small, we know each gift we receive represents a prayerful heart that was led by the Father to partner with us in ministry to His most vulnerable. Click here to give electronically via our secure server, or send a check to: Hope Pregnancy Center 325 N. 2nd Street Clarksville, TN 37040