It's official… ICU Clarksville is on the road!
We are so excited to be partnering with our friends at ICU (Image Clear Ultrasound) Mobile to bring life changing, life saving services to the streets of Clarksville and the surrounding areas.  Look for our mobile team in a parking lot near you!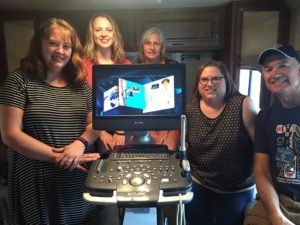 Our friends at the local Knights of Columbus chapter at Immaculate Conception Catholic Church reached their goal and received a matching grant to provide the beautiful new ultrasound machine aboard the mobile unit.  We are beyond grateful for their hard work and dedication to the cause of Life, and we praise God for them and their partnership!
We are currently recruiting additional drivers and Pit Crew members… they are the ones that keep the gas and water tanks full, empty the waste tanks when necessary, and much, much more.  Know someone who can help?  Have them get in touch with us!  And if you'd like to make a one-time gift toward this project, click here.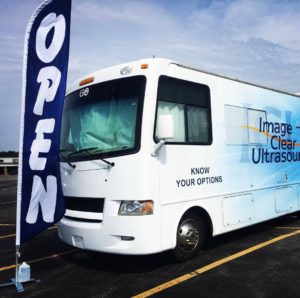 Getting the mobile unit on the road is one thing.  Keeping it going is another thing altogether.  We anticipate serving 100 to 200 additional clients in our first year of service.  While all services will be provided at no cost to the client, there will be a significant increase in costs for the ministry of Hope.  How much?  About $600 per client.
Would you be willing to sponsor one of those clients?  Start your automatic monthly gift of $50 to meet one woman at the crossroads of a life and death decision…  There's nothing more powerful than saving one life because a mother's heart was changed!  Click here to get started.
Can't do $50 per month?  We understand.  Gifts in any amount or frequency are always welcome, and will be put to use in powerful ways.  Thanks for considering this need.  Together, we're seeing God do amazing things!
There is no cost to attend this event, but registration is required.  Please follow this link to reserve seats for you and your guests.
This is a fund raising event and will include an invitation to make a financial investment in the ministry of Hope Pregnancy Center.  The gifts we receive cultivate hope in the hearts and lives of women and couples making life-changing decisions.  Your gift saves lives!
If you are unable to join us, but would like to give toward its success, please follow the link below.  Thank you!
We can't wait! Doors Open 6:00 pm Friday, April 5th